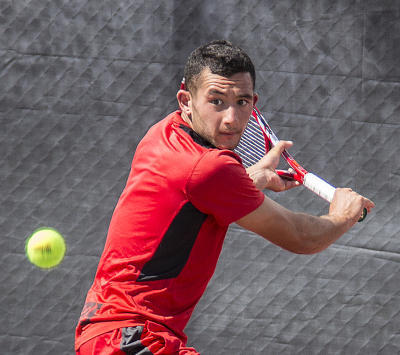 Samir Iftikhar
Meet TCA's official Touring Pro
Samir, 23, is the former #1 player for the UNM Men's Tennis Team and has just begun his career on the pro circuit.  He graduated in 2015 with a bachelor's degree in philosophy and a masters in business administration. To our TCA members, Samir humbly conveys, " I'm grateful for the opportunity to train at TCA and be a part of the community. I look forward to getting to know everyone in the coming months."  Here is a short Q & A.
Q: How did you get to New Mexico?
A: I was in Thailand at a training camp when Doug MacCurdy, the camp director who is from Albuquerque, put me in touch with Alan Dils, UNM Head Men's Tennis Coach, and it went pretty quickly from there.   It was my first school visit in the United States and I loved everything about it straight away.
Q: What made you want to come to TCA to train?
A: I knew Guillaume well and had heard so many great things about the club, it's pros and the tennis community being like nothing I had ever experienced before.  I am really looking forward to meeting the membership and being apart of the club.
Q: How long have you been on the tour and what tournaments are coming up for you?
A: I began in late 2015 and am just settling into the transition to full time touring. I recently won a prize money tournament in Arizona that had a lot of ranked touring professionals.  It wasn't a pro sanctioned event but I felt great with my results.  I'm training hard for two 25k Futures events in Bakersfield and Calabasas CA at the end of March.
Q: Who is your favorite player and why?
A: David Ferrer.  For a tennis player, he is short like I am, and that's an automatic disadvantage in this sport.  In spite of his size, his grit has landed him a top 10 world ranking.  He's number 8 right now but has been as high as number 3.  He's a great role model for me.
Look for more from Samir as we follow him on his quest for success!   Please take the time to introduce yourself and make Samir welcome to the club.  He's a terrific person and an absolute role model for our youth.