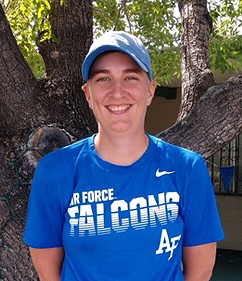 Shannon is originally from Salem, Oregon and started playing competitive junior tennis  when she was 11, competing both in the Pacific Northwest region and at the national  level in the USTA Zonals tournaments (2004-2006) and Winter Nationals (2006). She  went on to play college tennis for the US Air Force Academy and was commissioned as  an Air Force Officer in 2012. Her first assignment was to Wright-Patterson AFB in  Dayton, OH where she discovered a love for coaching tennis. While working as a  LADAR Development Scientist for the Air Force Research Lab's Sensor's Directorate,  and later while pursuing a PhD in Engineering Physics, she was an assistant coach for  both the girl's and boy's teams at Beavercreek High School. In October 2018, she  successfully defended her dissertation and relocated to Albuquerque to work for the  Space Vehicles Directorate of the Air Force Research Lab. While in Albuquerque she  has been heavily involved in tennis, acting as the head coach for the Wilson Middle  School team for the Fall 2019 season, and playing on TCA's Adult 18 & Over, 5.0+  Women's team that went on to get second place at the USTA League Nationals last fall.  Shannon loves sharing her passion for tennis with others and seeing players of all ages  both fall in love with tennis and improve their games. 
Shannon will start evening clinics Tuesdays and Thursdays, starting September 15th,  6pm-7:30pm.
Tuesdays will be "Fundamentals" – this is geared for complete beginners up to 3.0 level  players who are looking to improve the basics of their game. Time will be spent working  on the key fundamentals of footwork, groundstrokes, volleys, and serves with an  emphasis on correct form and repetition to make it a habit.  
Thursdays will be "Skills and Drills" – this will be a higher intensity clinic geared for 3.5+  and will involve a combination of coach fed and point based drills that will keep players  active and moving, while working on a wide range of skills for both singles and doubles.